I know Halloween this year is going to look veryyyyy different than it has in the past. But just in case you feel the urge to dress up with your family or quarantine bubble, I thought it would be fun to update this list of Halloween costumes based on movies and TV!
The older I get, the more wasteful this holiday seems, which is why these Halloween costume ideas are so great. First of all, they're EASY. You can probably go shopping in your own closet to pull some of these together. But if you don't have what you need, this is a fun (vs. stressful!) excuse to go shopping – especially if this gives you a reason to pull the trigger on something you've been eyeing for a while! Have you been lusting after a faux fur coat? Be Cruella Deville! What about a fun new headband? Hello, Blair Waldorf!
12 Halloween Costumes Based on Movies and TV Shows:
Moira Rose from Schitt's Creek
Moira has so many epic looks, but this one cracks me up so much. Do you have an old black gown from a wedding you went to? Pull that out, put a turtleneck underneath, and layer on the costume jewelry! Bonus points if you wear a wig too, 😉

—
Alexis Rose from Schitt's Creek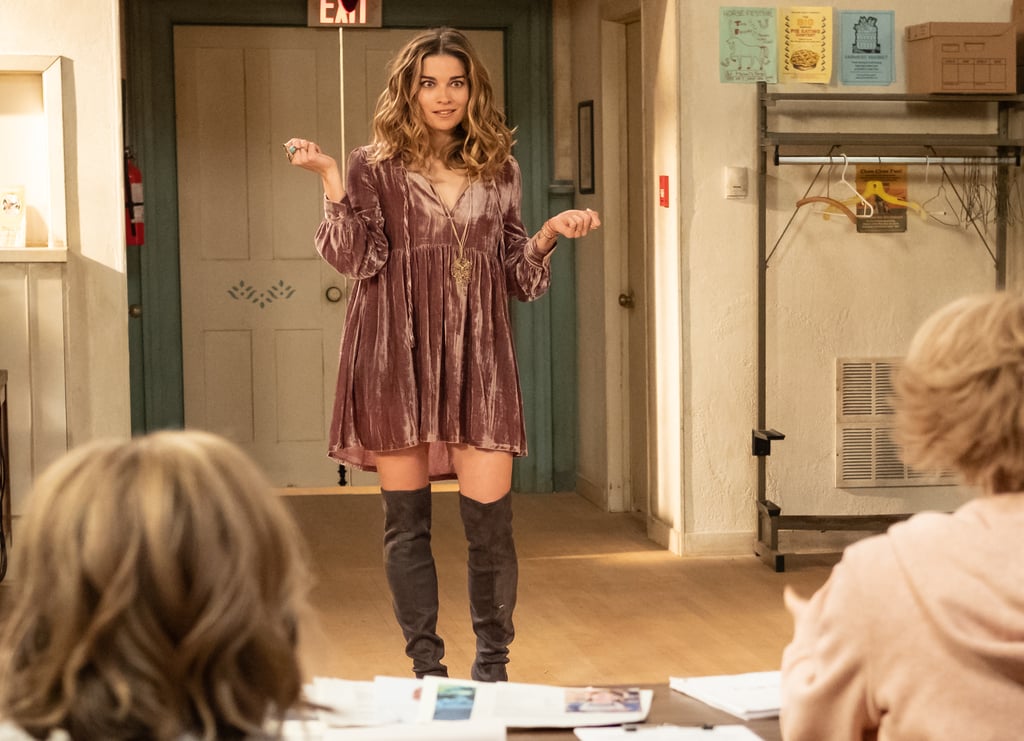 Again, Alexis has so many epic looks – but this one is probably my favorite for Halloween. Why? Because A Little Bit Alexis is EPIC. But also because this is so easy to recreate!

—
Emily from Emily in Paris
Love it or hate it… you can't deny that Emily in Paris has GREAT fashion. Also, I don't know about you, but a pink coat is now at the TOP Of my wishlist!

—
Midge Maisel from The Marvelous Mrs. Maisel
One of my favorite things about The Marvelous Mrs. Maisel is the FASHION! Midge always looks perfectly put together, while still having fun with colors and patterns and silhouettes… and who could resist this red dress?!

—
Carmela from The Sopranos
I am so glad I remembered Carmela, because this track suit is EPIC and also perfect for a COVID-friendly Halloween! Throw on all the gold jewelry you have, grab your hairspray, and you're good to go!

—
Grace and Frankie from Grace & Frankie
If you want to dress up with your best friend, look no further!!! Grace may be 81, but her style is always on POINT. And Frankie may be completely opposite, but it would still be fun to dress up in a hippie mumu or Free Willie Nelson shirt on Halloween!!
Shop for Grace:

Shop for Frankie:

—
Lara Jean from To All The Boys I've Loved Before
Did this movie make anyone else melt?! I think this costume is especially adorable for younger gals – age appropriate, but still really fun and relevant!

—
A Minion from Despicable Me
Overalls, yellow shirt, beanie… I think ALL of us could pull this costume together at the last minute. And it's comfy!

—
Cruella Deville from 101 Dalmations
She may be animated, but Cruella is a pretty iconic movie character. Plus, despite her hair, she's SUPER chic. Just look at her sporting a black dress, fur jacket (there are a lot of great faux fur options out there!), red shoes, and red lipstick. Get it, girl!

—
Blair Waldorf from Gossip Girl
Headbands are having a MOMENT right now, and I think Blair Waldorf would be very pleased! Obviously, you could find a cute dress and a headband and call it a day – but knit tights, a blazer, and skirt will ensure everyone knows who you are!

—
Rachel from Friends
Okay, you might not actually wear a denim vest again… but you WILL wear a cute LBD and black slides. In fact, you probably already have them in your closet!

—
Dorothy from The Wizard of Oz
Dorothy is actually a really easy movie costumes to recreate – all you need is a cute gingham dress, red shoes, and braids! Everyone will know who you are 😉

—
Some other fun Halloween costumes based on movies and tv that I've seen recently are Pam and Jim from The Office, Leslie and Ben from Parks & Rec, anyone from Star Wars, and the twins from The Parent Trap! I also think it would be really fun to just wear a chic sweater or blazer from your closet and say you're Shiv from Succession 😉
Are you dressing up this year? What are you going to be?!
—
PS. You might also like Halloween Bark, Easy Cat Costume, and Apple Cider Old Fashioned.