Halloween is RIGHT around the corner, I thought it would be fun to update this list of Halloween costumes based on movies and TV!
The older I get, the more wasteful this holiday seems, which is why these Halloween costume ideas are so great. First of all, they're EASY. You can probably go shopping in your own closet to pull some of these together. But if you don't have what you need, this is a fun (vs. stressful!) excuse to go shopping – especially if this gives you a reason to pull the trigger on something you've been eyeing for a while! Have you been lusting after a faux fur coat? Be Cruella Deville! What about a fun new headband? Hello, Blair Waldorf!
12 Halloween Costumes Based on Movies and TV Shows:
Keeley from Ted Lasso
Alright if you watch Ted Lasso, you know that there are SO MANY good Keeley looks – but these two are my personal favorites for Halloween. You might even have everything from the first outfit already!! All you need is a white tee, suede jacket, long necklace, gucci belt (or Gucci-inspired!), and dark jeans. Boom!
Outfit #2 is harder, but also SO FUN. If you don't have long hair, get a ponytail extension and scrunchie along with a red fuzzy coat (although, I'd opt for this darker one – so pretty!), hoops, some sort of stylish joggers, and fuzzy sandals. When else will you get to wear this fab outfit?!

—
Rebecca from Ted Lasso
Of course we can't talk about Ted Lasso without talking about Rebecca! She definitely has expensive taste, but you can still replicate her look with budget friendly options, too! I'd start for a tie blouse and pencil skirt… and then if you want to use this Halloween as an excuse to buy some red soles or a nice bag, more power to ya! 😉

—
Anyone from Bridgerton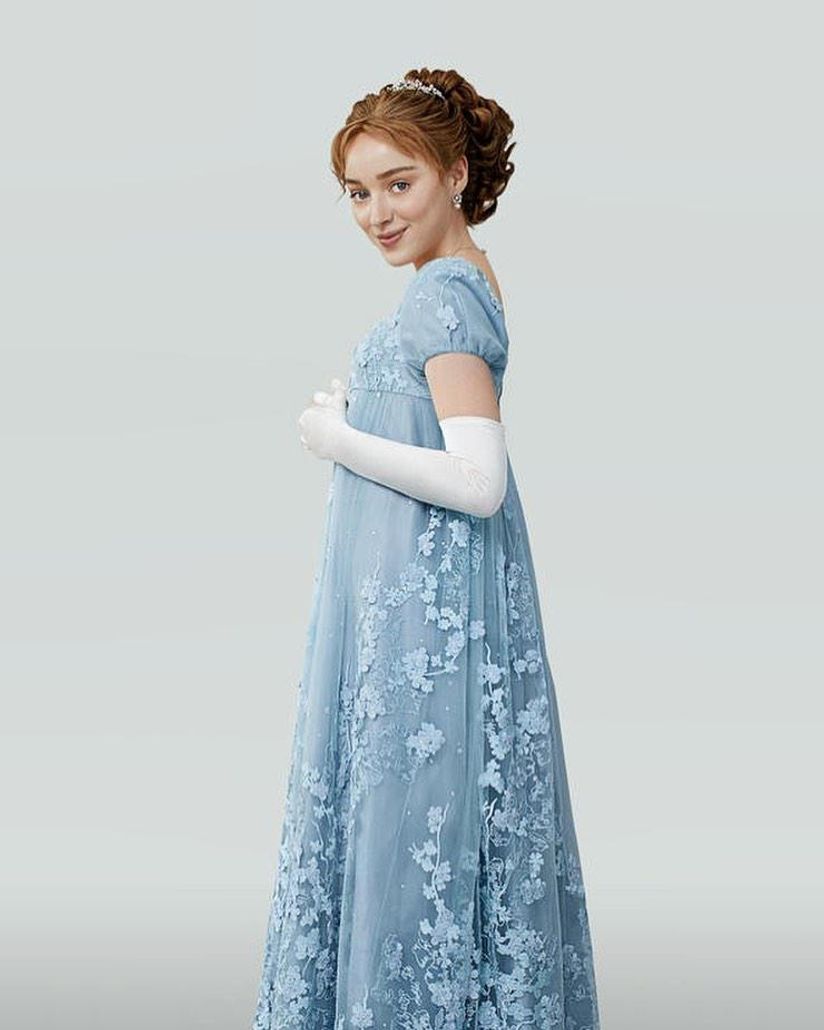 Unless you're planning on renting a costume, specific characters from Bridgerton is hard… but this nap dress gives off VERY Bridgerton vibes. And you can wear it after Halloween, too! Just add some gloves, a fan, and feminine flats! And maybe talk in an accent all night, because why not?

—
Lorelei from Gilmore Girls
This is such a good year to be Lorelei because straight leg denim is BACK! Pair it with a classic white tee, fitted jean jacket, square toe boots, and Luke's mug!

—
Alexis Rose from Schitt's Creek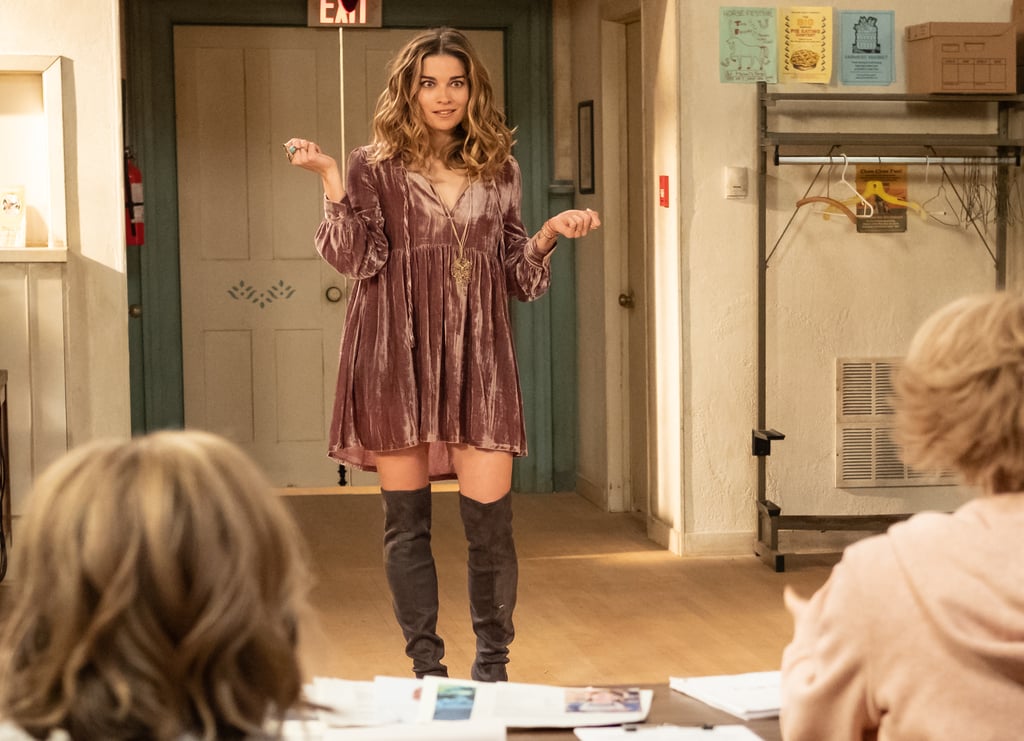 Alexis has so many epic looks – but this one is probably my favorite for Halloween. Why? Because A Little Bit Alexis is EPIC. And so easy to recreate! Just wear a velvet dress and over the knee boots – and make sure you have the choreography ready to go!

—
Emily from Emily in Paris
Love it or hate it… you can't deny that Emily in Paris has GREAT fashion. All you need to recreate Emily is a bold pink coat, a cute sweater, some roses, and maybe a beret for fun!

—
Mabel from Only Murders In The Building
I wasn't sure what to expect from Only Murders in the Building, but we are LOVING it – and this look on Mabel would be so fun to recreate! The main piece you'll need is a mustard coat (this is a good budget friendly option too!). Pair it with a yellow sweater, yellow hat, plaid pants, and red headphones!

—
Kathleen from You've Got Mail
We all know I love this movie – and a lot of what Meg Ryan wore is coming back in style right now! One of my favorite looks is a jumper dress that she layered with a turtleneck underneath. If you want to make it a little more obvious, carry around some books and a Shop Around The Corner tote!

—
Cruella Deville from 101 Dalmations
She may be animated, but Cruella is a pretty iconic movie character. Plus, despite her hair, she's SUPER chic. Just look at her sporting a black dress, (faux) fur coat, red shoes, and red lipstick. Get it, girl!

—
Blair Waldorf from Gossip Girl
Blair Waldorf is still the queen of headbands – and it's a great base for a Halloween costume! Add knit tights, a blazer, and skirt to ensure everyone knows who you are!

—
Rachel from Friends
Okay, you might not wear a denim vest a lot… but you WILL wear a cute LBD and black slides. In fact, you probably already have them in your closet!

—
Dorothy from The Wizard of Oz
Dorothy is actually a really easy movie costumes to recreate – all you need is a cute gingham dress, red shoes, and braids! Everyone will know who you are 😉

—
Some other fun Halloween costumes based on movies and tv that I've seen recently are Pam and Jim from The Office, Leslie and Ben from Parks & Rec, anyone from Star Wars, and the twins from The Parent Trap! I also think it would be really fun to just wear a chic sweater or blazer from your closet and say you're Shiv from Succession 😉
Are you dressing up this year? What are you going to be?!
—
PS. You might also like Halloween Bark, Easy Cat Costume, and Apple Cider Old Fashioned.