Alright petite women, I know that you have also been loving the midi skirt trend. And now that the weather is warming up, you're probably on the hunt for one. Unfortunately for us, not all midi skirts are made with petites in mind 😂 But don't let that get you down!! Not only are there brands that make midi skirts specifically with petite sizing, but there are also things you can look for and ways to style midis to work for you.
For example, make sure it's a high waisted skirt to ensure your legs look longer. Or if it's a full skirt, make sure you balance that volume with a fitted top or cropped top. And of course, find the length that works best for you. I've heard some people recommend avoiding skirts that end at the widest part of your calf, but I think that depends on the person. Ultimately, you really have to try some on and go through a little trail and error – but I'll do my best to help you out with this roundup of the best midi skirts for petites! Let's dive in!
Pictured above: similar tank | skirt (runs a little big) | similar jean jacket (use code LAURENN15) | sandals (runs true to size) | similar bag
5 Best Midi Skirts For Petites
Slip Syle Midi Skirt
When I think of midi skirts, a slip style is the first thing that comes to my mind. It sits high on your waist and has a slim silhouette without being super fitted to your body. The lack of volume really works well for petite frames, especially if you can find it in petite sizing, too!
This particular one is sold out, but there are still some petite sizes for the exact same skirt in a different print! I like this style paired with a simple tank tucked in!
—
A-Line Midi Skirt
If you want a more classic/retro look, I love an a-line midi skirt with a little bit of volume – but there are a few things to keep in mind if you go this route. First of all, getting a petite size would definitely be ideal. Second, make sure that you have a clear defined waist without anything too blousy on top. In the photo above, I paired the skirt with a fitted chambray shirt tied at the waist, but you could also do a slim bodysuit too. You just want to make sure that whatever you have on top balances out the volume of the skirt. The skirt pictured above is vintage, but I really love this fun printed one!
—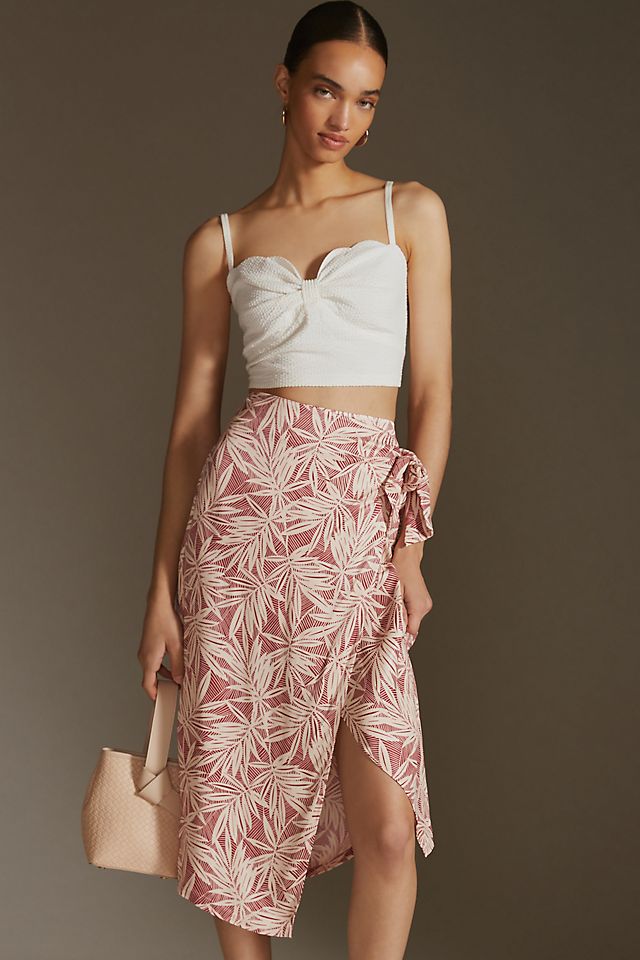 Wrap Midi Skirt
I think wrap dresses and wrap skirts are universally flattering, because you can control how tightly it hugs your cute waist! That being said, I think it's harder to find wrap midi skirts specifically for petite girls – but that's okay! There are just a few things you should look for.
First of all, make sure that you can tie it high on your waist to give the illusion of longer legs. Second, look for one that shows a little bit of those legs in the front to balance out the fabric in the back! This one is a faux wrap, but it's so cute!
Similarly to the a-line skirt, I would recommend a form fitting top or crop top with this type of skirt. Try to avoid too much volume on top and you'll be good to go!
—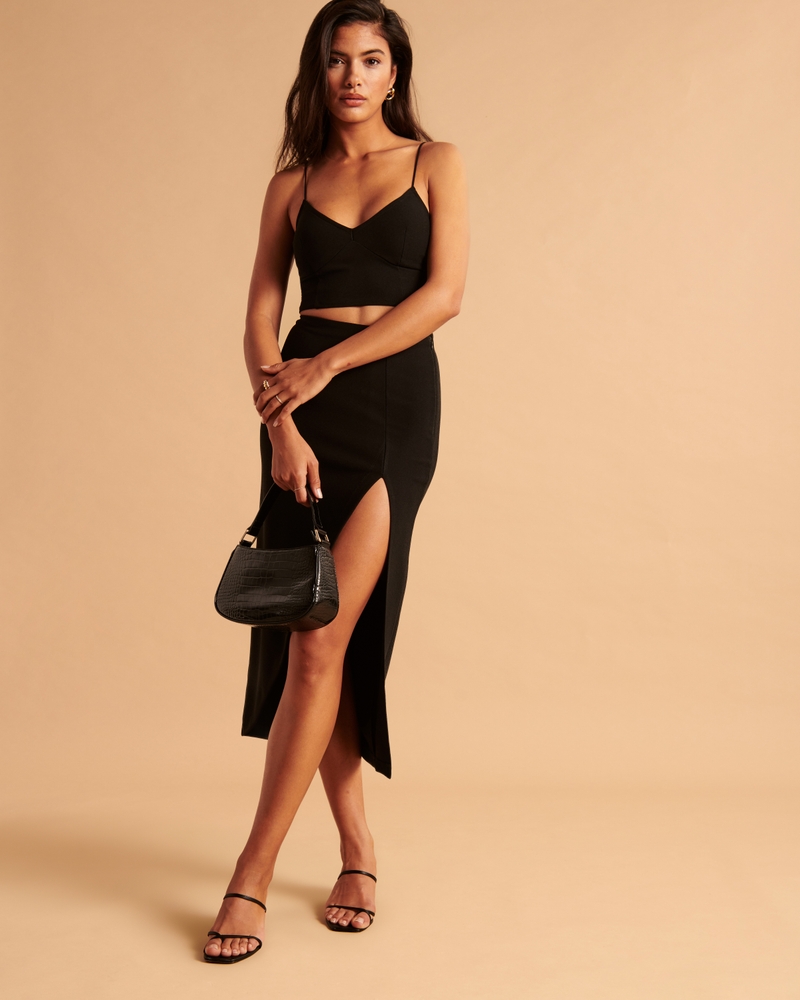 Midi Skirt with Slit
So you want to be a little sexy? Definitely go for a form fitting midi skirt with a slit then!! I actually really love this type of midi because you have a lot of styling options. There isn't any volume to balance on top, so you could pair it with a matching top OR dress it down with a casual tee or sweatshirt.
—
Pencil Skirt
Last but not least, we have to talk about a classic: Pencil Skirts. Fashion trends may come and go, but pencil skirts have been around forever… and aren't going anywhere either. When it comes to this style, you really need to be willing to find a petite size or get it shortened to fit your petite frame, because this style is ALL about the fit. The good news is that once it fits, you can style it however you please! Have a big work meeting? Pair a neutral colored skirt with a collared shirt or sweater for a really professional look. Styling it for date night? Find a fun color, tuck a camisole in, and grab a leather jacket on your way out the door!
Who wants to shop?
Did this post make you want to rock some midi skirts this year? Then let's go shopping! Here are a bunch of available styles that fall within these 5 categories for you to add to your carts. I will continue to add to this throughout summer as well, so even if you aren't ready to purchase anything now, definitely check back in whenever you are!

PS. You might also like Spring Dresses for Petites, What To Wear To Spring Weddings As A Guest.