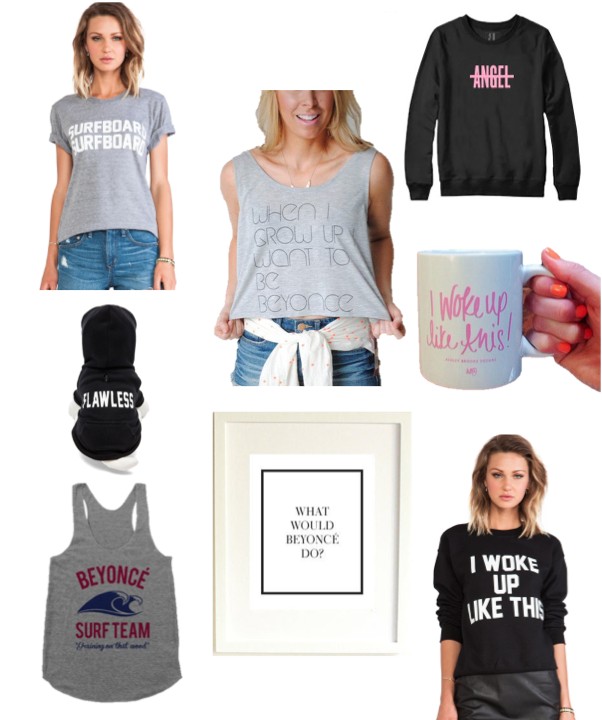 I've been seeing Beyonce themed everything recently – and I wanted in on the fun! I finally joined the club, and got this tank by Casual Friday Apparel. Since I'm already obsessed with it, and all things Beyonce, I thought I would put together a post for you guys!
—
Surfboard Tee
– Anyone who texts with me, or has seen my recently used emojis, knows that I love the surfboard lyric from
Drunk in Love
. So, when I discovered
Private Party
on
Revolve
, my eye immediately when to
this
tee.
Flawless Dog Hoodie
– How hysterical is this?! I feel like I should buy
it for the dog that I don't have yet… and
this
. And
this
, too. Cracks me up.
Beyonce Surf Team Tank – I saw this tank on Instagram and immediately googled it. It's the perfect workout and/or beach tank!
When I Grow Up Tank – Meet my new favorite item in my closet. Guys, I want to wear it every. DAY. If you live in the Chicago area, you should go check out Casual Friday's pop up shop! (Don't worry, you'll see my new tank in an outfit post soon!)
No Angel Sweatshirt – If you like this color scheme, there's a lot more on Beyonce's
website
!
I Woke Up Like This Mug
– This mug isn't available yet, but
Ashley Brooke Designs
gave her followers a sneak peek. Join her mailing list if you want to be one of the first to know when they come in stock!
I Woke Up Like This Sweatshirt
– Grab your
Ashley Brooke
mug, throw on this sweatshirt, and you are ready for the day!
What's your favorite? Would you rock any of these?!
Shop more below: