Read my full Daily Harvest review below and click here to get up to $40 off!
Hey friends! I am so excited about this post today because I have been a big fan of Daily Harvest for over 3 years now – as in, I ordered boxes of smoothies back when that's the only thing they made! I fell in love with the convenience and the variety of flavors (a lot of which I wouldn't think to put together!) and it's been really fun to watch them expand like crazy since then. I mean, now you can get smoothies, oat and chia bowls, harvest bowls, flatbreads, mylk, scoops, and more. SO many options!
As you guys know, testing recipes and shooting recipes keeps me pretty busy in my kitchen – so sometimes I just really need a break. And that's when I'm always glad I have some Daily Harvest in my freezer. Their meals make it easy to eat something healthy, always packed with fruits/veggies, and always without any additives, preservatives, and fillers.
Daily Harvest Review
What Is Daily Harvest?
Ok let's back up for a second. What are we talking about again? Well, if you've never heard of Daily Harvest, they deliver plant based chef-crafted foods right to your door that can be ready to eat in mere minutes. They started by providing pre-packaged frozen smoothie ingredients that only require a liquid of your choice and a blender. Since then, they have expanded to include more breakfast, lunch, dinner, and snack options. Their goal is to make healthy eating easy and delicious with over 80 vegan and gluten-free options to choose from. I also love that they care about their environmental impact, too. The delivery box, dry ice bags, cups, and bowls are all either recyclable or compostable!
When you sign up for Daily Harvest, you can choose to receive either 9, 12 or 24 items weekly or 24 items monthly. I particularly like that there isn't a set menu, and you don't need to choose a specific amount from each category. So if you prefer a mix of smoothies and harvest bowls, that's great for you! But if someone else prefers oat bowls and soups, they can do that, too.
Here is the full list of categories they offer:
Smoothies
Mylk
Harvest Bowls
Flatbreads
Soups
Oat Bowls
Chia Bowls
Scoops
Bites
Lattes
I also feel really strongly that it NEEDS to be easy to make changes to any subscription service – and Daily Harvest couldn't make it easier. If you know you won't eat them that week (or longer), all you have to do is press the "Skip" button. That's IT. Also, if you have different needs that month and/or just want to try one of the new arrivals, you can simply swap out your selections. The least stressful thing ever.
If you are interested in trying it out, you can click here to get up to $40 off! Now let's dive into my favorite categories!
—
Daily Harvest Smoothies
Let's start with the smoothie category because that really is the OG – and my personal favorite! Each smoothie comes in a cup like this. All of the ingredients are frozen inside, so you just pour your liquid of choice right in and then pour the entire cup into a blender. Blend until everything is smooth, adding more liquid if you prefer a looser smoothie.
I think my favorite thing about these smoothies, besides the convenience, is the variety of flavors. If I'm making a smoothie at home, I'm usually just sticking with berries, spinach, protein powder and milk. Nothing fancy and certainly nothing pretty. But Daily Harvest uses so many creative ingredients that I would never think to put together, and they always turn into the most beautiful color that I can't wait to drink!
That being said, I do usually add protein powder to their smoothies just to make them a little bit more filling, and if a flavor doesn't have a ton of greens, I'll add a handful of spinach in, too. I've also been known to add a little bit less liquid in order to make these into thick smoothie bowls that I then top with some sort of nut butter and Lil Bucks. SO YUMMY.
The Best Daily Harvest Smoothie Flavors
Mint + Cacao
Truly the best Daily Harvest smoothie flavor EVER. It tastes like a mint chocolate milkshake!
Cherry + Almond
This has been my second favorite smoothie recently. It almost tastes like if a peanut butter and jelly sandwich was a smoothie!
Cold Brew + Cacao
If you're a coffee lover, this is a great one to add to your list.
Carrot + Cinnamon
Everyone always fights me on this one until they try it. Why would I want a smoothie that tastes like carrot cake? I know I know, but just trust me. It's so delicious!
Acai + Cherry
Love acai bowls? This flavor tastes exactly like an acai bowl, but you don't have to leave your house to get it!
Banana + Greens
If you are craving a standard green smoothie, this one is my favorite. The banana sweetens the spinach, kale, cucumber and wheatgrass.
—
Daily Harvest Bowls
Next up, Harvest Bowls! These plant-based bowls are the perfect single serving lunch – but you can also add to it to make it more filling for dinner. All you do is add the contents to a pan and heat it up for a few minutes. They also provide microwave instructions, but it truly couldn't be easier to heat it up on the stove, so I always do that!
As you can see, I'm a big fan of the Cauliflower Rice + Pesto Bowl with a fried egg on top, but I also love the Brussels + Lime Pad Thai with tofu. Also, don't forget to think outside the box! The Chickpea + Za'atar bowl is even better when you put the ingredients in a whole wheat pita and top with a tzatziki sauce or tahini dressing. So fresh and flavorful!

—
Daily Harvest Flatbreads
Who doesn't like a good flatbread?! I personally could eat pizza and flatbreads for every meal every day, but that isn't the healthiest option in the world. Luckily, Daily Harvest has reimagined the flatbread with veggie based gluten-free crusts and super healthy vegan toppings. My favorite is the Tomato + Basil Flatbread with a broccoli crust. It only takes 20-25 minutes to crisp up in the oven, and then I sprinkle some grated parmesan and red pepper flakes on top. YUM!
—
Daily Harvest Oat Bowls
If you prefer a warm breakfast over a cold breakfast, Daily Harvest Oat Bowls are for you! I personally love the Apple + Cinnamon flavor because it tastes like apple pie in a bowl – but it's healthy! Along with oats, there are apples, cinnamon, walnuts, and even cauliflower in there to make it delicious, nutritious, and filling. You can heat it up in the microwave, but I always just add 1/2 cup of almond milk and then warm it up on the stove for a few minutes.
Top with chia seeds, nut butter, and a half a banana. SO GOOD!
—
Bites
I love a good energy bite when I'm craving something sweet – I just don't always like to go through the effort to get all of the ingredients, pulse them all together, and then form them into balls. Luckily, Daily Harvest decided to do all of the work for us! AND you keep them right in your freezer!
The Hazelnut & Chocolate Bites tastes just as you'd expect – like a chocolate hazelnut truffle had a baby with a bunch of superfoods! I personally love that it's a little bitter and not overly sweet, which makes it perfect for both a post-workout snack or a dessert after dinner. My second favorite flavor is the Cacao Nib + Vanilla, which is a nod to chocolate chip cookie dough. It's definitely not as sweet or chocolatey as the real thing, but it does have a slightly dough-y texture. And like I said, I prefer my treats not to be overly sweet anyway!
—
Daily Harvest Mylk
Honestly, I think Daily Harvest's new Mylk is the coolest and most innovative thing they've done so far. The only ingredients in these little wedges are environmentally-friendly transitional organic almonds and a pinch of Himalayan sea salt. No gums, fillers, or stabilizers to be found.
These wedges are stored in the freezer and whenever you want almond milk, you just pop 2 out, add them to your blender with 1 cup of water, and boom! You've got almond milk! You can also add these right to your smoothies, so you don't need to worry about running to the store if your carton of milk runs out. So so so mart!
—
Daily Harvest Scoops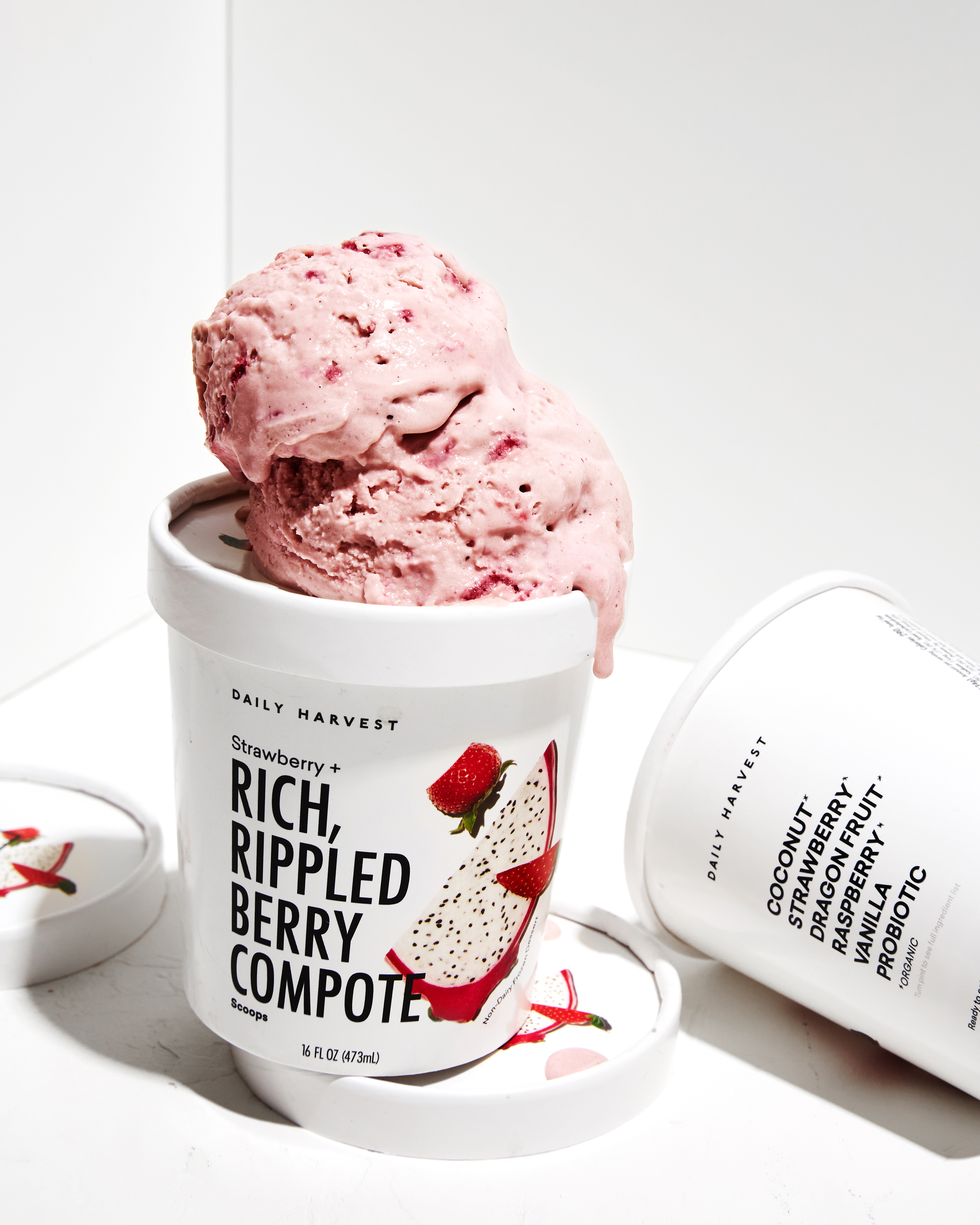 Last but not least, they have ice cream too!! As I mentioned earlier, I don't have the biggest sweet tooth so I only purchase them every once in a while – but I can attest to the fact that the Strawberry + Berry Compote flavor is DELICIOUS. Just like all of the flavors, these are completely plant-based and gluten-free. Plus, I love that the Strawberry flavor has gut-friendly probiotics in there, too!
—
My Daily Harvest Review
All in all, I think it's clear that I highly recommend Daily Harvest to anyone looking for easy and nutritious meal options to have on hand. I particularly love how easy it is to customize a plan that works for YOU. You could order a smoothie for breakfast, a bowl for lunch, and a flatbread for dinner multiple times a week every week. OR you could sneak those in every once in a while when you're busy so getting something healthy to eat is not a stressful task on your to do list.
I also love that it gives me new ideas for flavor combinations and introduces me to new ingredients, yet I can still add my own flare to each meal. Whether it's just adding protein powder to a smoothie or crisping up marinated tofu to add to a bowl, you can choose to be creative with it – or just eat it as is!
If this sounds interesting to you, you can click here and use code LAKESHORELADY for up to $40 off!
—
This post is sponsored by Daily Harvest, but (as always!) all opinions are my own. Thank you for supporting the companies that make Lake Shore Lady possible!