WELCOME TO MY NEW ROM COM SERIES – starting with outfits inspired by The Parent Trap!
If you know me, you know that I'm a sucker for a feel-good film. You know, the kind of sweet movies that make you want to curl up under a blanket and swoon, even though you've already seen it a hundred times before? The BEST.
Well, a few weeks ago, I was thinking about how funny it is that so much fashion from my youth is becoming trendy again… and then I had a brilliant beyond brilliant idea! (Anyone get this reference?! 😜) I realized I should create a series where I put outfits together inspired by my favorite rom coms! It's an excuse to rewatch some of my favorites AND explore the way 90's and early 00's trends are coming back. Fun, right?!
I definitely got a little wrapped up in having the perfect pieces at first, but I'm trying to let that go. Instead I'm trying to think about what these characters would gravitate towards now. How might their style have changed? And how can I recreate their vibe at different price points? So without further ado, let's dive in!
Outfits Inspired by The Parent Trap
View this post on Instagram
Outfits Inspired by Meredith Blake
I don't know if you've noticed, but Meredith Blake from The Parent Trap has had a real moment this summer. There have been so many TikToks made about her whole aesthetic, with a lot of women realizing that maybe she wasn't as much of a villain as we all thought she was when we were younger 🤣 I mean, he didn't tell her his daughter was a twin? YIKES.
As for her style, it's really all about black and white glamour. While I looove her vibe, I'll admit that I'm not much of a Meredith. I just love color too much! But when I saw this active dress, I knew I had to have it… and even Adam knew that it was because of Meredith Blake! (I have it in small petite.)
Of course this is a little sporty for her, but I really didn't have much else in my closet that captured her sophisticated style. I'm willing to bet that she would scoff at some of my ultra girly and/or budget buys 😂 Luckily, there is a lot on the internet right now for YOU to shop if Meredith is your style inspiration!
If you're going for one of her classier looks, I love this LBD with a square neck and a slit, along with this crossneck dress. I could also totally see her rocking this little white dress, too. For more affordable option, these $13 sunglasses look EXACTLY like this $345 pair – such a win! You also KNOW she would own this trendy Bottega bag right now, but if you can't drop that much cash, here's a $40 dupe!

—
Outfits Inspired by Chessy
Speaking of TikTok, Chessy's style has also had a moment this summer! It kind of got lumped in with the Coastal Grandmother vibe – but honestly, I think Chessy's style would really thrive in the fall 2022! Chambray shirts and chinos and birks? Yeah, that feels very Chessy to me!
In creating this post, I realized that while I am girlier than Chessy when I'm out and about – I dress a LOT like her when I'm at home! For example, everything pictured above was already in my closet. Love when that happens!! Obviously any chambray shirt or button up will do, and I love these twill pants. Also, I can 100% picture her getting a pair of knockoff Birks this season. All about the comfort!

—
Outfits Inspired by Elizabeth James
And of course, you can't forget Elizabeth James! Her style is all CLASS. When I think of her, I obviously think about her stunning little black dress moment. But beyond that, I think about soft creamy neutrals that will never go out of style. Hence why I picked this suede sheath dress and gorgeous camel bag. Loooove.
I wish I had ordered this LBD for this (or this one!), but I still wanted to represent her. So I opted for a monochromatic look that I could see her wearing to work. A silky champagne colored top, on-trend trousers (I got petite sizing), and classic pumps. I know she doesn't wear this exact look in the movie, but I feel like she would totally wear something like this today! (Also, yes I know the sleeves of this blouse are too long – something to keep in mind if you're eyeing it but petite like me!) Here are some more Elizabeth ideas:

—
Outfits Inspired by Hallie and Annie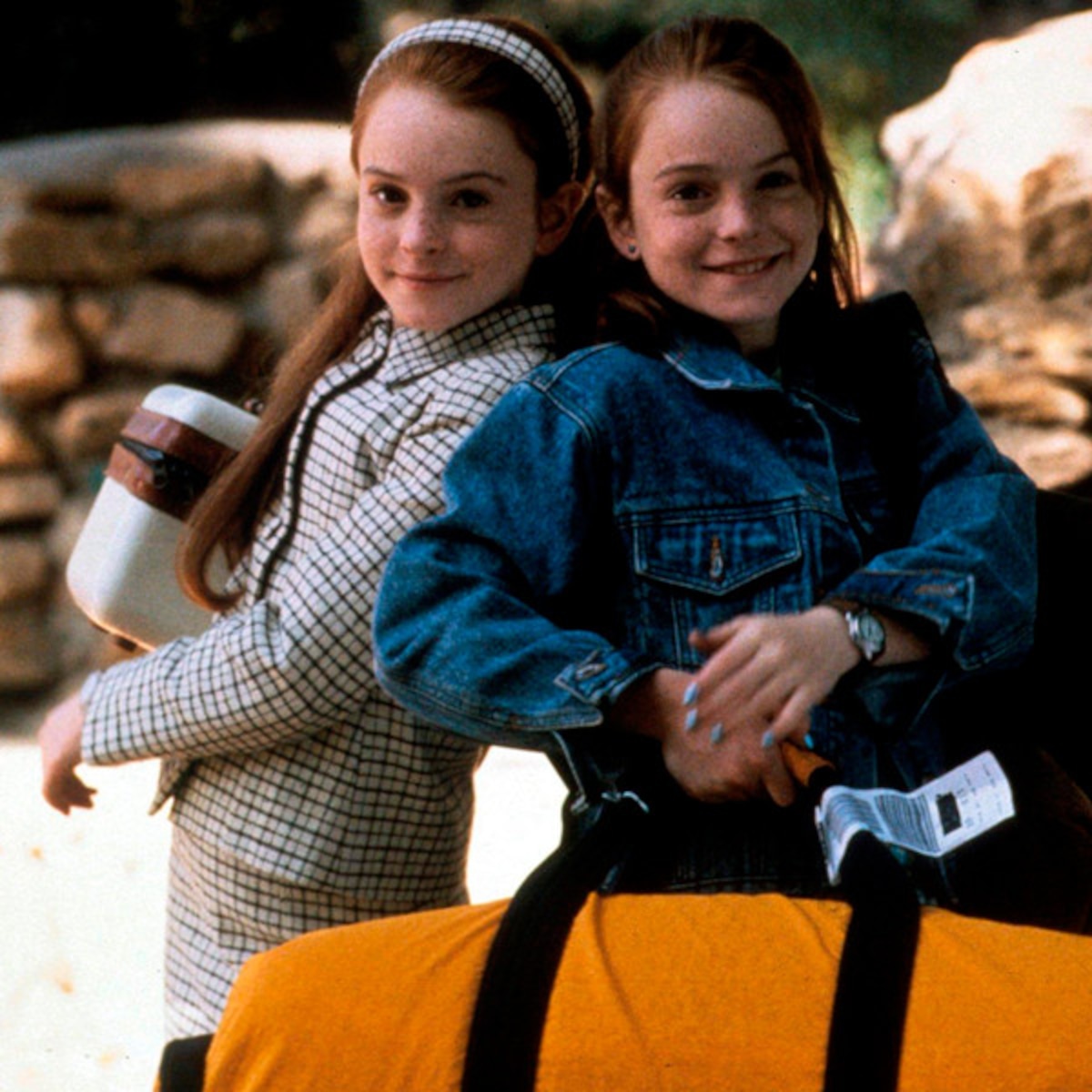 And last but not least – we can't leave out the twins, right?! Here are a few fun pieces inspired by the Hallie and Annie.