My honest Quince review with sizing insights for every piece I've ordered!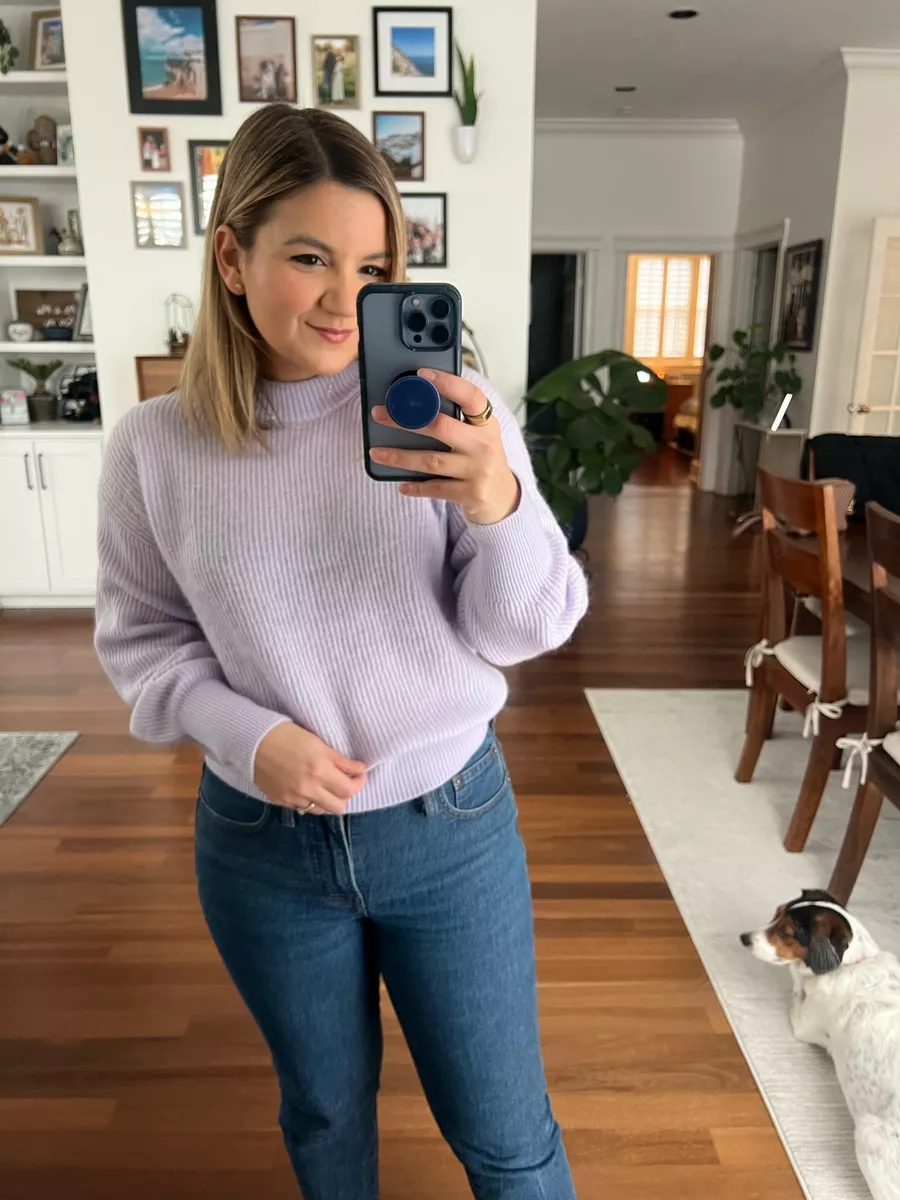 Obsessed with this alpaca sweater!
As many of you know, I try really hard to do put a question box up every week (usually Thursday or Friday!) and one topic that popped up ALL the time is Quince. Have you tried Quince? Is Quince good quality? Is Quince legit?! And I get the curiosity – I was curious too! So after months of wondering along with you, I finally went to their website and placed a big order so I could write a full Quince review.
Fast forward a few months, and I obviously had to place another order and update this post for spring! So let's get to it!
What is Quince?
Quince is a direct-to-consumer retail website that carries clothing, leather goods, accessories, home decor, bed and bath, and more. It's CRAZY how much variety they have, especially since they are committed to high quality products and sustainability… for a fraction of the cost of other brands.
Sustainability
It's not often that you find a brand that is both affordable and sustainable, but Quince has somehow managed to do it. They are committed to more eco-conscious production with sustainably produced materials. They ship directly from the factory to the consumer, which reduces their carbon footprint.
They are eliminating all virgin plastic in their packaging, and all of their packaging will be 100% compostable by the end of the year. And they work with factories that provides equitable wages and safe work environments for their workers.
You'll also notice that they have really classic styles. This is because they are aware that an insane amount of clothes end up in landfills every year. So instead of trendy pieces that might go out of style within a season, Quince focuses on timeless, high quality pieces that are meant to be worn for a long time.
Speaking of the quality, you'll hear me rave about it with each item below, but WOW. I was not expecting it all to feel as high end and well made as it does. I figured I'd like a few pieces, but I was not expecting to want to keep this whole order. It reminds me a lot of more expensive brands like
Everlane
and
J.Crew
– and I don't own any
Jenni Kayne
but I've heard a lot of people compare it to her stuff, too.
Quince Review
If you're new here, welcome! For context, I am 5'2″ and I typically wear either an XS or S in tops. I'm also wearing either these jeans or these jeans with the tops!
This open knit pullover is marketed as a cover up but it's actually perfect for any mild weather. I have size small and it has a really slouchy and relaxed fit.
I would absolutely wear it over a swimsuit but I also really love it with this outfit!
—
As I mentioned above, I don't own any Jenni Kayne but apparently this Fisherman Sweater is very similar to theirs – except JK's is $395 and Quince's is only $40. This one is made from 100% organic cotton and it's a great weight with really nice rib detailing all over. I got a size small and it isn't very oversized, so I'd definitely size up if you want more slouch.
—
One thing to know about me is that I LOVE Everlane's alpaca crewneck. I own it in 3 colors and have been wearing them for years – so the fact that this $50 version is (dare I say it!) just as good is blowing my MIND. I sized up to a small in this one because I wanted that cozy oversized fit, and it's perfect. It comes in 6 colors and it's really soft and warm!
—
I wasn't sure if this batwing sweater was going to look ridiculous on me since I'm short, but I'm glad I tried it because I looooove it. It's made with 100% Grade-A Mongolian cashmere that is SO soft, I didn't want to take it off.
The S/M size is definitely big on me but I think it's really cute when you do a little half tuck! The green is really pretty in real life, and it comes in 6 other colors. I will be living in this until it warms up again, especially on work from home days!
—
This cotton sweater is oversized but also pretty petite friendly since it's a little cropped in the front and longer in the back. It also has pretty ribbed detailing on the cuffs and hem that I like a lot. I got an XS and it's still slouchy on me. It comes in 11 colors, so I'm wondering if I'd prefer it in a different color… I'll keep you updated if I exchange it!
—
I get tons of questions about workwear and this blouse is going to be my new top recommendation. First of all, it's made with WASHABLE SILK. Hello practicality! Second, it comes in 9 different colors, so you could technically get one for every day of the week. Wear them with a skirt or trousers to the office and with leggings on your Zooms from home 😉
I got a small and it's long on me but that's to be expected because I'm short. This is one that is going back for me because I just can't see myself wearing it a ton since I don't have a traditional job – but I'm eyeing it in black for date nights!
—
The fact that this sweater is only $50 is BANANAS. The style isn't anything groundbreaking, but it is timeless. Crew neck, slim fit, lightweight but cozy… it will never go out of style. It's also made from 100% Grade-A Mongolian cashmere so it's incredibly soft and warm. I recommend sizing up if you want a little bit of a slouch to it – I have on a size small here. It also comes in 13 colors!
—
This blouse is so cute and fun! The chiffon fabric is made from 100% recycled polyester and it feels a lot more expensive than $60. That being said, I told myself I wouldn't keep everything from this order, so this one is another one that is going back. I think it could be a winner if you've been on the hunt for an affordable top you can dress up or down though! I'm wearing a small here.
—
These are hands down the best linen shorts I've ever owned – and they're only $30?!?! INSANE! They are super comfortable, I love the drawstring waist and the pockets are perfectly placed.
They're also made with linen from 100% European flax, which is more sustainable and less resource-intensive to grow. I sized up to a medium to ensure that they were extra comfy. I truly have nothing but amazing things to say about these shorts. 10/10 recommend!
—
This swimsuit might look a little familiar… I had been eyeing this $95 beauty for a while but I wasn't sure if I wanted to spend that much. So when I saw that this one was half the price, I added it to my cart and I am very impressed with it!
I sized up to a size 6 which I'm really glad I did because it's pretty snug! The compressive fabric is really nice though, and I love that it has sewn-in soft cups that offer support without moving around. The booty is also pretty full coverage, and you can adjust the side tie to your liking.
–
Okay I feel like I've been searching for this knit tank my whole life! It has just the right about of structure and stretch, and the texture makes it a little more interesting. It's also the PERFECT length with high waisted jeans. It also comes in 3 colors and I got a size small.
—
I don't wear bodycon dresses very often but this dress hugs allllll the curves, baby! I've never tried the Skims long slip dress, but I've heard that this is a good dupe for it. I love that the fabric is super soft and breathable, and even though it's sexy, you can actually style it a lot of different ways! This blog post has the links to 5 outfit ideas too. II got a size small and it's a little long on my 5'2″ self but it's perfect with heels and I can add a belt and shimmy it up to wear with flat shoes.
—
Linen shirts are a spring/summer STAPLE and Quince has made a really good one. Their linen is made from 100% European flax, which is more sustainable and less resource-intensive to grow. I got a size small and it's great as a shirt, but I particularly love it styles as a light top layer. Wear it open or tied at the waist!
—
Holy moly this tee is SO SOFT. I literally ran over to Adam as soon as I opened it to make him feel it too 😂 The fabric plus the relaxed fit and dolman sleeve definitely make this a lounge-y tee, but it still looks nice enough to style different ways. I got an XS and it's still a little oversized on me.
—
Omg THIS BAG. Alllll the heart eyes! To be totally honest, I kind of assumed that I would return it, but I figured it was worth a shot for the color and the price. But now that it's here – SHE'S STAYIN. I cannot get over how much I love it.
First, the color is even better in person. It's so versatile for literally any season in Chicago. Second, this is real Italian leather for $130! We're talking soft, beautiful, handcrafted leather goodness. If you want to see more (like what fits inside), I saved some stories about it to a Quince highlight on my Instagram page, too!
—
I'm going to be totally honest – this dress is going back. It's really soft and nicely made, but I am too short for it and I don't think it's worth getting shortened. That being said, if you are taller than 5'2″, I think it's definitely worth a try! It's suuuper comfortable and comes in 3 different colors. I got a size small.
—
This dress is also going back, which I'm sad about because it's so pretty! The fit just isn't right on me. It's a little too long and it doesn't fit me right, especially around the hips. I got a size small and an XS would be too tight but I think a medium would be too big. Ultimately I think this would be better on someone taller with less curves – so if that's you, please get it and enjoy being effortlessly chic in it!
—
Do you own any of these pieces? What is your Quince review?

See my order in action here and below!
View this post on Instagram
PS. If you liked this Quince Review, you might also like How To Style A Maxi Dress 5 Ways and 20 Summer Dresses for Petites!