Welcome to one of my favorite posts of the year!! While I know the big list of The Best Black Friday/Cyber Week Sales is helpful, especially if you're just looking for a specific retailer, this post is way more fun for me to write because it's about so many of my favorite things!
I haven't done a whole lot of shopping this year, but a bunch of the items I did get are marked down right now. Along with those, there are a bunch of staples that I've had for a long time that are still available/available again this year. I tried to cover any frequently asked questions (sizing insights, links to old posts/reviews, etc), but just let me know if I left anything out!
And one last thing…HAPPY THANKSGIVING! I know this year is so different in so many ways, but I hope you are able to connect with your loved ones tomorrow, even if it's just virtually. I know Thanksgiving is always about finding gratitude, but this year, it's even more important. Even amidst all of the unknowns, cancelled plans, missing relatives, and so much more… there is always something to be grateful for. This year, I am grateful for my health, the health of my loved ones, and all of YOU for your amazing support. Seriously, I can't thank you enough for sticking with me through this wild year. Every like, comment, share, and/or purchase means the world to me, and it's the reason why I get to do this. So thank you, thank you, thank you, thank you ❤️
What I Own (and love!) From Cyber Week Sales
Clothes and Shoes:
Well, my FAVORITE sweatsuit is 50% off which means that everyone in my life is getting a refresh ? I have a regular size XS in both, but I might try petite this time around. When I say these are soft… I mean they are the SOFTEST. Can't recommend enough!
I wanted a really cozy cardigan and man, did this deliver! I'm wearing an XS above and it's still really oversized – in the best way. The material is so soft that I find myself reaching for it all the time, even just as an extra layer as I work from home. Highly recommend.
I have been in the market for a layering bodysuit, and this one is perfect. It's super soft and it's the perfect nude color to hide under sweaters and blouses, or to be seen under a cardigan (pictured above). I've even worn it with sweatpants at home since it's so comfortable!
I haven't owned Abercrombie jeans since the traumatic days of low rise fame… but I bought this high rise pair on a whim because I saw that they came in "short" – and you know I love when I don't have to hem my jeans. Turns out, they're AWESOME JEANS. The fit is killer, it has a nice amount of stretch, the length hits right at my ankles (I'm 5'2″), and they wash well. I am usually a size 26 in J Brand and Everlane and I sized up to a 27 in these because I heard they run a little small and some of my old jeans have been a little tight recently… another lovely side effect of living through a pandemic ?
My favorite Chicago boutique is offering 20% off their entire site! I have a size small in the Windy City sweatshirt and a size XS in the Chicago Forever sweatshirt – and both would make AMAZING gifts!
Nisolo Boots – 25% off with code EXTRA25
I've been hearing awesome things about Nisolo for a while – both because of their sustainable/ethical practices and the quality of their products. And now that I have these booties (color: brandy), I can confirm that they are AWESOME. If you're looking to invest in high quality leather boots, definitely consider purchasing from this super conscious small business instead of a department store.
I love this sweatshirt even more than I thought I was going to, and now that it's only $29, I kind of want to get the PARIS one, too! It's super soft and cozy, and I love that the mockneck is so different from any other sweatshirt. Also it's slouchy but still polished somehow? It's just a great buy. I'm wearing a size small!
I was 1000% influenced to buy these distressed jeans by my friend Blair, which is funny because she is super tall and thin, and I am short and curvy. But I guess that doesn't matter, because I LOVE THESE. It has a great high rise and the perfect amount of distressing. But the best part is that you can also buy these in "short" length, too! I find straight leg jeans usually look weird on me, but these actually hit my ankle exactly where they're supposed to. Big fan.
I will take a better photo of me in this sweater today, but for now, this is the only one I have! You've definitely seen it on my stories before though. It's the perfect length with high waisted jeans, and I love the cute little details and puffed shoulders! I have a size XS.
Right now, these leggings are FULLY STOCKED in solid black! GO GO GO! I dive deeper into their sizing in this Guide to Lululemon Leggings, but I have these in my usual size 6 and they're great. This material is thicker and more sweat resistant than their align leggings, which I love for spinning classes on our bike!
It looks like all of the Align leggings keep going in and out of sizes, but they said they will be adding more throughout the week, so I would check in with this page that has multiple lengths. (My Guide to Lululemon Leggings explains the different lengths if you're confused by that, too!)
Nordic Boots – 50% off with code EARLY
Not only are they the cutest snow boots I've ever seen, but the inside is SO SOFT and SO WARM. And this sale brings them down to under $100, which makes them a no brainer investment if you live somewhere like Chicago. Runs true to size.
This bodysuit looks pretty sold out right now, but it keeps going in and out of stock, so I'm keeping it in here in case you get lucky! I absolutely ADORE the puffy sleeves – it feels fun and festive without being too much, which is perfect for the very scaled back holiday season of 2020. Runs true to size!
If you've been following me a while, you know that I looooove Yumi Kim. All of her designs are so special, and this blouse is no exception! I also love that you can wear it ANY time of year! The photo above was taken over the summer, but this post was shot just a few weeks ago. So versatile!
If you're looking for a new work flat, these loafers are awesome. I got them a few years ago and they go with so many different looks (evidence in this capsule post!). They run true to size!
This bodysuit is really comfortable – even with the snaps underneath! A great layering basic that runs true to size.
These have been one of my most worn pair of jeans for a long time now – they are SO COMFORTABLE! I wear a size 26 in the ankle length and they're perfect for petite gals! I also have a post all about the best petite friendly items from Everlane, too!
While I'll admit that this isn't the most practical sweater for Chicago – if you live somewhere warm, or you are just need more transitional sweaters, this one is suuuuper soft. I love throwing it over a tank dress on a spring or fall day, but it's also cute with skirts and jeans, too! See more here.
These are great if you've been looking for nice black pants that aren't jeans… but are still comfortable! I love their high waist and structure, and they're not too long for petite gals if you order them in "short"! See more here.
I have 3 pairs of OV leggings (seen here, here, and here!) and I love them. They're really thick, so they're definitely different than Lululemon leggings. I usually reach for them when it's really cold out or when I don't want to feel as on display. If you are between sizes, order up!
I've had these pajamas for years and I can confirm that they are GREAT quality. The fabric is super soft and comfortable, and they come in a bunch of different styles (with long sleeves/pants for winter!). I also hear that their robes are really awesome, too!
I got this bag probably 7 or 8 years ago, and it's still one of my all time favorites. They've changed the pattern from quilted to chevron, but it's still essentially the same thing. Such a great bag!
—
Beauty and Wellness:
Joroto Bike – 20% off for Prime Members
As you guys know, we bought this bike back in March and it's been our favorite purchase for pandemic life! This blog post covers pretty much everything you need to know about it – but the quick overview is that it's a great inexpensive stationary bike. If you really want clip in pedals or lots of analytics, you might be disappointed… but if you just want a budget-friendly way to workout at home, I hope you love it as much as we do!
Hypervolt – Marked down to $279
If you are shopping for someone who likes to work out a lot and/or deals with tension and sore muscles, this is an AMAZING gift. I got it for my birthday this past May and Adam and I have both enjoyed it so much. It honestly feels like you're getting a deep tissue massage – which is pretty nice when massages aren't even an option in most places thanks to COVID. I know that there are a few other brands out there, but the Hypervolt came highly recommended and it's definitely delivered!
There isn't a sitewide discount at Necessaire, but I wanted to include these anyway because you get a FREE Body Serum with your purchase! I'm pretty sure Adam loves this stuff even more than I do… they feel amazing on your skin and make your whole bathroom smell like a spa. Is it a necessary expense? Absolutely not! Is it a lovely addition to your shower routine? Why yes it is!

Equilibria CBD – 20% off sitewide + free Daily Treatment Oil on orders over $150
If you've been thinking about gifting Equilibria CBD this year, now is a great time to buy! Also, if you've never tried Equilibria before, you can get 20% off + 15% off with my code lakeshorelady – such a great deal! Read all about each gift set in this post about why CBD is a great gift this year and learn more about the benefits of CBD here.
Pimple Patches – 20% off with code SHARETHELOVE
These pimple patches are MAGIC. I've never used anything that works as well… so well that if you put it on at night, you can actually see everything that it got out the next morning. Yes that was a little TMI, but I'm so impressed by it! 10/10 recommend.
I talk about this product pretty much any time I talk about skincare ? It's my favorite retinol serum, hands down. It's powerful, but hydrating – and I notice a difference in my skin when I use it vs. when I don't.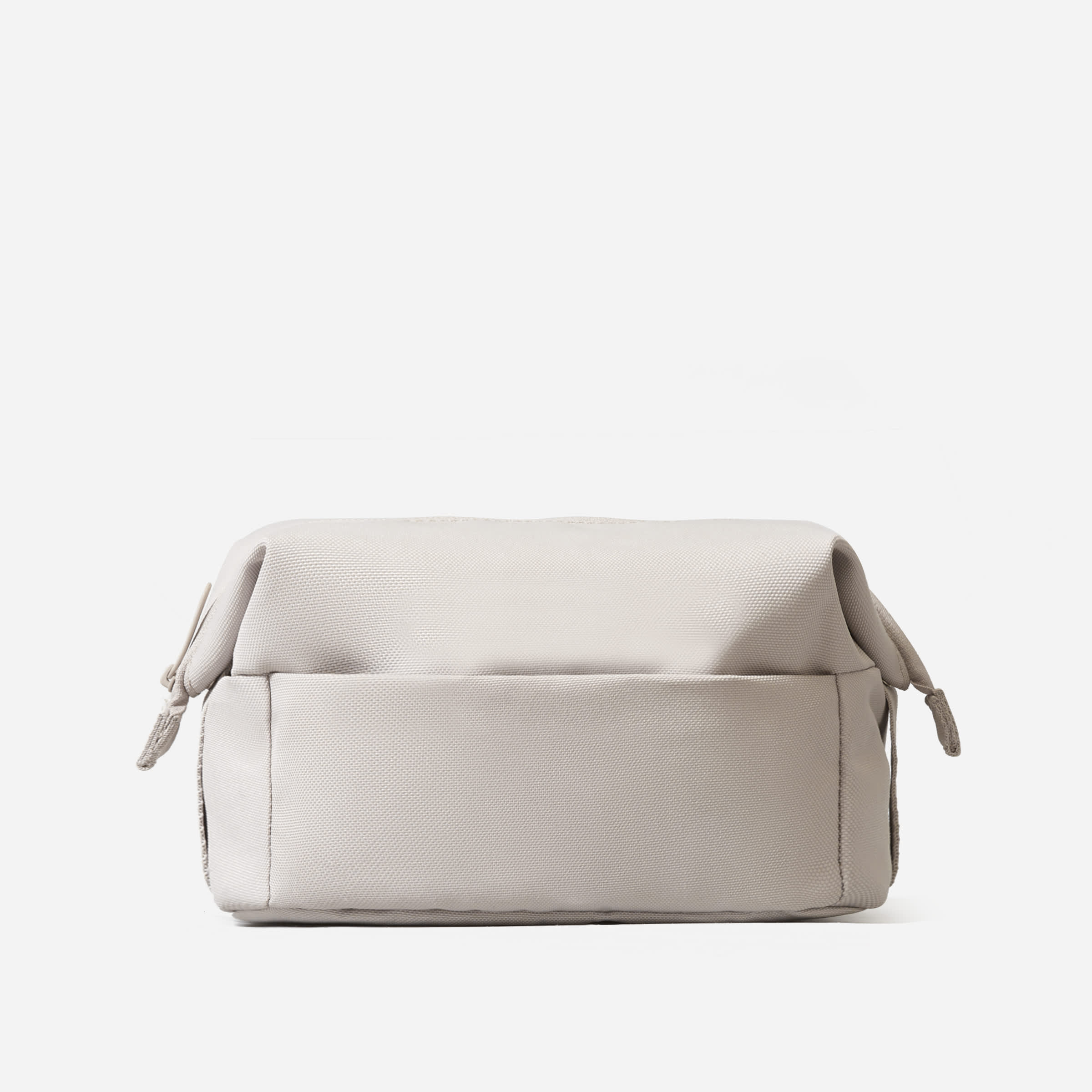 This is my favorite cosmetic case for travel, hands down. There are so many great compartments, you an fold it over and snap it down when you need to access everything, and it's made out of recycled materials! This is a great gift for someone who is hard to buy for, too!
—
Kitchen and Home:
There are a lot of Nespresso machines on sale this week, but this is the exact model that I have! My cousin, who works for Nestle, recommended that I get a machine from the Original line vs. the Vertuo line. She said she likes the quality of the machines, but also, the original capsules are less expensive AND you can buy capsules from other brands besides just Nespresso. I have to say, I was hesitant to go from drip coffee to this, but I LOVE this machine so much. It makes a perfect espresso or americano every time, and I can add milk from my Aeroccino Frother to make a latte whenever I want!
If you're in the market for a new truly non-toxic and truly non-stick pan from an awesome female-led small business, THIS is it! You can read my full review here, too – it covers any questions you might have!
We got our first Fire Stick for the TV in our bedroom, since we knew we didn't need to have cable in there. But after realizing how amazing it is, we ordered another one for our living room and cancelled our Comcast subscription! This handy little thing connects to your wifi so that you can stream Hulu, Netflix, Disney+, Amazon Prime – all of them!
I firmly believe that every kitchen should have a food processor. Don't feel like chopping? Add it to the food processor! Craving pesto? Make it in the food processor! It's just one of those gadgets that I'll always put to good use.
I know Le Creuset Dutch Ovens aren't cheap, but this is the only dutch oven I have – therefore it's the only one I can speak to! I grew up learning to cook soups and sauces in my Mom's Le Creuset, so I literally cried when my parents got me this one for Christmas a few years ago. It is such a work horse – I've cooked countless meals in it and it's still in excellent condition. It's a cult favorite for a reason!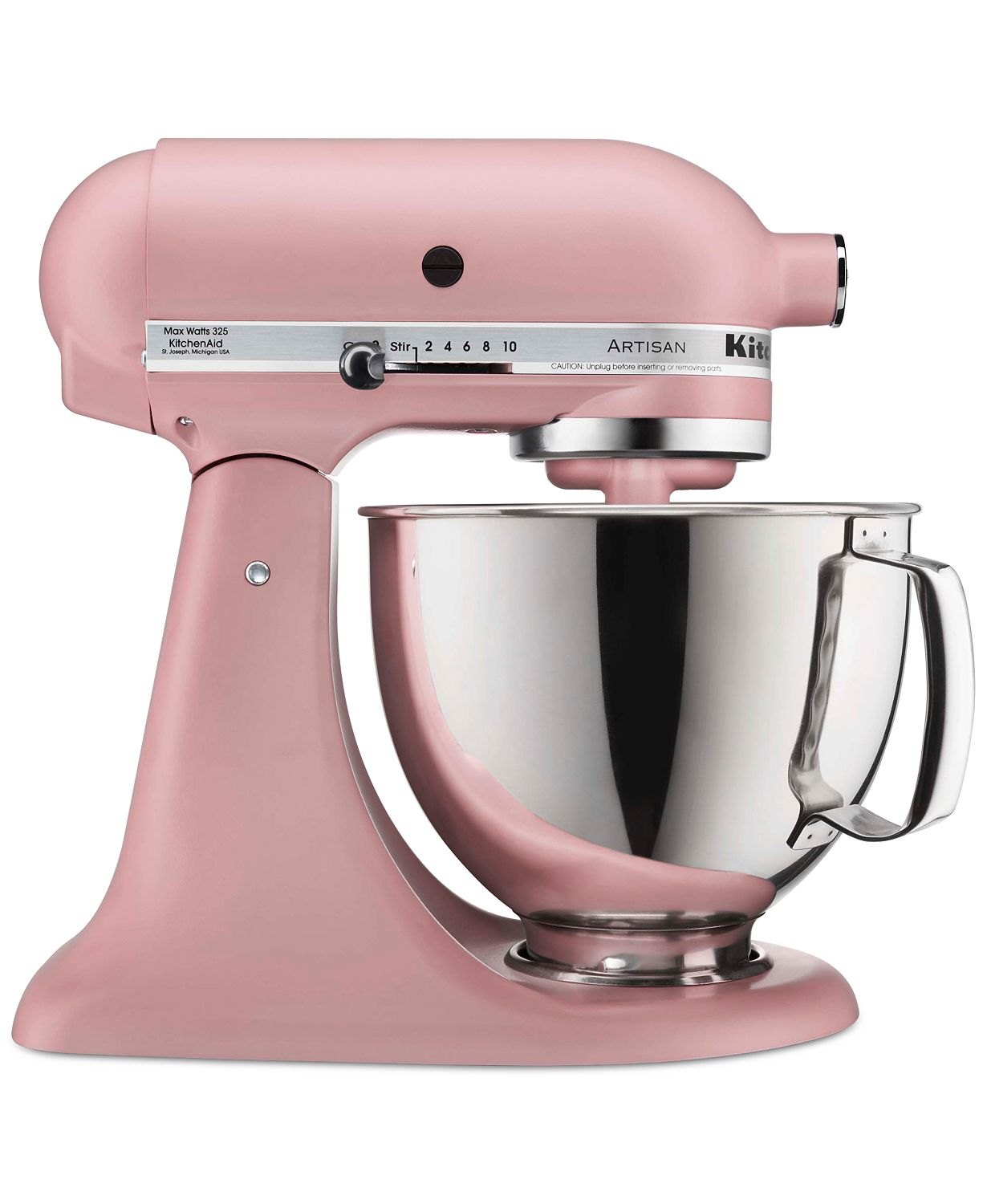 We have an aqua/mint color in our kitchen, but you can snag this KitchenAid Mixer in pink or red on sale this week! I'm not a huge baker, so I waited until I could add it to our registry (Thanks Aunt Katia and Uncle Paul!), but if you love to bake, don't wait like I did! It makes baking 1000000x easier!
Vitamix – on sale for $449
You guessed it… another investment item! I use mine to blend smoothies, sauces, salsas, soups – you name it! I find nothing gets smoothies as smooth as a Vitamix.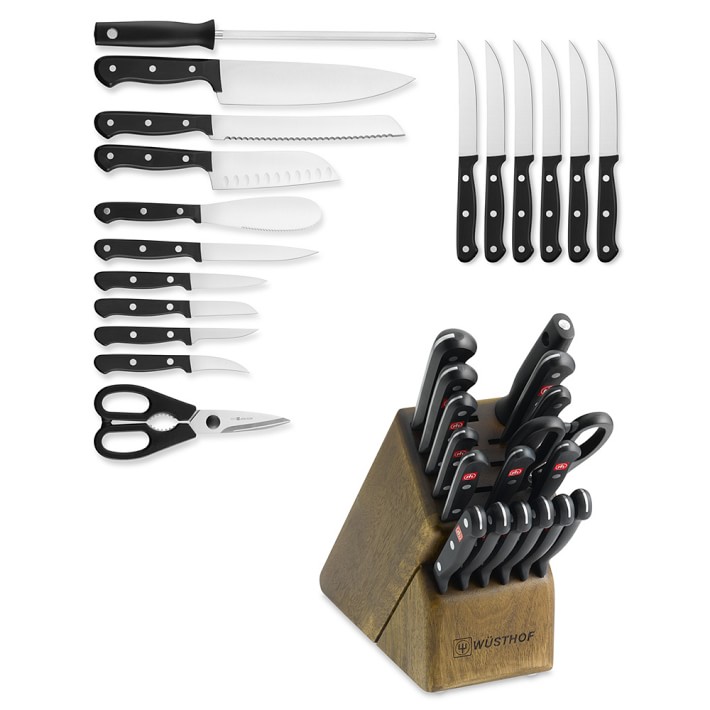 This was another registry item that we LOVE. We were working with hand-me-down knives before these, and it's made such a difference in my ability to chop quickly and effectively. I also like that this one comes with steak knives!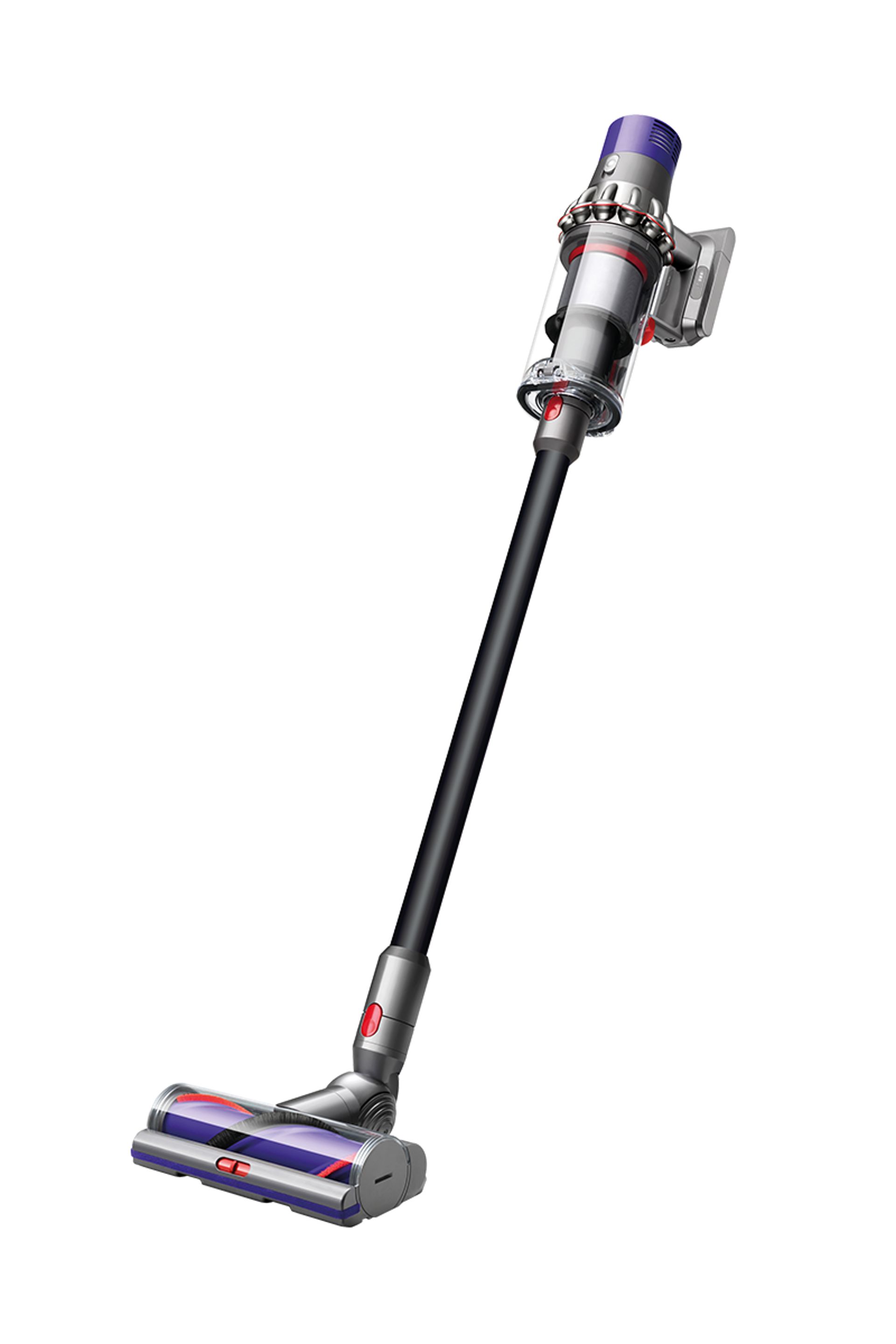 Dyson Vacuum – on sale for $399 (originally $549!)
Our Dyson vacuum is on sale!! I seriously cannot rave about this vacuum enough – and now is the time to get one!
I was crushing on my Mom's Le Creuset tea kettle for the longest time… so I was SO excited when we got our very own! It's just one of those things that make me happy whenever I use it. (Also, remember my old kitchen? ?)
Our favorite sheets!! They are such a great value, wash really well, and come in a bunch of colors. We also have their duvet cover, too!
We really wanted a bigger tree for our new home since we have tall ceilings, but we also didn't want a huge tree that takes over the whole room. Enter: this 9 ft tall skinny tree!
—
PS. Don't forget to check out my list of the Best Cyber Week Sales, plus my Gift Guides this season!
Under $50 Gift Guide
Gift Guide For Her
Gift Guide For Him
The Best Gifts From Chicago Companies/Artists/Shops
Gifts for Parents and In-Laws
Sustainable Gift Ideas